FXIFY is an innovative prop trading firm that offers customizable funding programs, flexible trading rules, and a wide range of tradable assets for ambitious traders.
Pros
$4 million scaling
Fast withdrawal
High leverage
Allows news trading and weekend holding
Wide range of tradable assets
Advanced trading dashboard
Relaxed trading rules
Cons
New prop firm
Limited reviews

FXIFY Review
Are you an ambitious trader looking for a prop trading firm to take your career to the next level? With so many options available, it's essential to carefully consider your choices before deciding. In this review, we'll be taking a closer look at FXIFY, a prop firm that provides funding programs for traders in the forex, crypto, equities, and commodities markets. We'll delve into the company's funding program options, fees, tradable assets, and restrictions, so you can determine whether FXIFY is the ideal prop firm to help you achieve your trading goals.
About FXIFY
FXIFY is an innovative prop trading firm that allows traders to access up to $4,000,000 in trading capital. The platform aims to provide traders with the best possible trading experience, presenting real-time analytics and metrics to help them enhance their trading skills. What sets FXIFY apart from other firms is its ability to customize trading accounts to align with each trader's individual strategies, whether they prefer an aggressive trading approach or a more flexible timeline to achieve their objectives.
This group of experienced traders, with a mix of retail and institutional broker backgrounds, has launched their platform with a bang. Boasting over 30 years of collective trading and brokerage experience, the founding team of David Bhidey, Peter Brown, and Robert Winters have traded with many famous prop firms. Now, they're bringing their expertise and passion for trading to the world with FXIFY.
FXIFY understands the challenges of trading and recognizes the importance of a supportive and transparent environment for success. They offer two evaluation programs, the 1-phase and 2-phase evaluations, tailored to accommodate traders with varying skill levels and risk tolerance. Moreover, FXIFY provides a friendly community that assists traders in navigating the complexities of the financial markets and achieving their goals.
Traders can customize their accounts with FXIFY to match their individual trading styles and preferences. This includes selecting their initial starting capital and trading platform. Moreover, FXIFY provides flexible options, such as increasing leverage, extending the evaluation period, and receiving bi-weekly payouts. These can help traders optimize their accounts and reach their full earning potential.
Funding Program Options
FXIFY offers two distinct funding evaluations for traders to choose from: the 1-phase evaluation and the 2-phase evaluation. Both evaluations are designed to assess traders' skills and grant them access to the firm's capital.
The 1-phase evaluation offers expedited access to a funded account. Traders complete a single assessment phase to qualify for funding, making it ideal for rapid capital growth based on meeting the trading objectives in one assessment.
Traders can customize the evaluation to align with their trading strategy, which FXIFY believes boosts their chances of success. The evaluation is designed to promote low-risk trading, increasing the probability of traders passing.
With the 1-phase evaluation, traders can compound their account balance to the subsequent level using the scaling plan, which can continue up to $4,000,000.
Conversely, the 2-phase evaluation employs a 2-step process to assess traders' skills. With evaluation account sizes ranging from $25,000 to $400,000, traders can secure a funded account in as few as 20 days by demonstrating their trading expertise. Alternatively, they can eliminate the time limit on the assessment and proceed at their own pace.
FXIFY's 2-phase evaluation aims to identify committed prop firm traders with the essential trading skills to thrive in this industry. If you are consistent, accurate, and demonstrate good trading risk management skills, FXIFY will reward you accordingly. After meeting the objectives in the first assessment, you will undertake a second assessment before gaining access to trading capital.
Fees
FXIFY offers a variety of pricing options, ranging from $175 to $1,999, depending on the initial starting capital. Traders can select their starting capital from $25,000 to $400,000, providing ample flexibility to accommodate various budgets and trading styles. The good news is that FXIFY is upfront and transparent about its pricing, eliminating concerns about hidden costs or unexpected fees. The assessment fee covers setting up and maintaining the trader's evaluation account.
In addition to the assessment fee, traders will not be charged a reset fee if they are profitable but don't meet their target. However, if they fail the evaluation, they can retake it with a 10% discount. This policy offers flexibility and the opportunity for improvement while maintaining a fair fee structure.
FXIFY provides traders with a profit split that starts at 75%, with the option to increase it by 15% to reach 90% by purchasing an add-on for a higher profit split at checkout. Upgrading to a higher profit split option incurs an additional charge of 20% of the regular fee.
Moreover, FXIFY gives traders the choice of bi-weekly payouts and the standard monthly payout schedule. Traders can receive their earnings more frequently by paying an extra 5% fee.
One of the great features of FXIFY's add-ons is their ability to help you tailor your account to match your trading style and preferences perfectly. For instance, you can increase your leverage by paying an extra 25%, providing access to leverage of up to 50:1 for forex and gold trading. This increased leverage offers a broader range of opportunities to maximize your trades. Additionally, by paying a 5% fee, you can extend the evaluation period to unlimited days, allowing you to demonstrate your skills and achieve your evaluation goals at a comfortable pace. These add-ons enable you to customize your account and cater to your specific trading needs.
Tradable Assets
FXIFY, in collaboration with FXPIG, a reputable broker since 2010, offers a distinctive prop firm experience by providing all the essential tools you would typically expect from a regular broker. You can trade using the widely recognized MetaTrader 4 (MT4) or MetaTrader 5 (MT5) platforms, supported by a top-tier multi-asset Tier 1 true STP broker, ensuring an optimal trading environment.
With FXIFY, you can access a wide range of over 300 trading instruments. This diverse selection includes various markets such as stocks, cryptocurrencies, indices, and forex, catering to traders of all kinds. Whatever your preferred trading choice may be, FXIFY has you covered.
One remarkable aspect of FXIFY is its commission-free trading for forex, gold/metals, and indices. This exclusive feature allows you to optimize your trading performance by eliminating additional costs typically associated with these assets. Moreover, you can also trade stocks and cryptocurrencies, expanding your investment opportunities all in one convenient place.
Restrictions
FXIFY stands out from other prop firms by offering very relaxed trading rules, making it even more appealing to a wide range of traders. Here's what you can do with FXIFY:
EAs allowed: FXIFY supports using Expert Advisors (EAs), which can help automate your trading strategies. This means you can use technology to improve your trading experience and outcomes.
Hold over the weekend: Unlike some prop firms, FXIFY allows you to keep your trades open over the weekend. This flexibility allows you to manage your positions according to your own trading style and preferences.
No consistency rules: FXIFY imposes no consistency rules on your trading. This means you can trade at your own pace and follow your own strategies without being restricted by specific requirements.
No stop loss required: At FXIFY, you're not required to set a stop loss for your trades. This gives you more control over your risk management and allows you to make decisions based on your own judgment and analysis.
These relaxed trading rules make FXIFY an attractive option for traders who prefer a more flexible trading environment, giving you the freedom to trade your way.
Challenge
Let's delve into the specifics of the FXIFY evaluation, consisting of 1-phase and 2-phase. First, you select your initial deposit amount, ranging from $25,000 to $400,000, based on your objectives.
In the 1-phase evaluation account, the profit target is set at 10%, with a 30-day timeline to achieve it. Traders have the option to remove the time limit during checkout if desired.
A daily loss limit of 5% applies to all deposit levels to mitigate risks. Ensure you stay within this limit in a single trading day. The daily loss limit is calculated based on the previous day's end-of-day (5 PM EST) balance.
One significant difference between the 1-phase and 2-phase evaluation is the drawdown requirements. While the 2-phase evaluation has a static drawdown limit of 10%, the 1-phase evaluation employs a trailing drawdown limit of 6%. This means that your account balance cannot drop more than 6% from its highest point after reaching a new highest balance. This rule protects your capital and prevents significant losses.
The FXIFY Evaluation requires a minimum of 5 trading days to be completed. The 1-phase evaluation sets a profit target that should be achieved within 30 trading days, but traders can remove the time limit during checkout, allowing for unlimited trading days.
During the 1-phase evaluation, the standard leverage offered is 30:1. However, traders can increase their leverage specifically for forex and gold trades to 50:1 during checkout.
Now let's discuss the 2-phase evaluation. The profit target remains at 10%, but the second phase has a reduced profit target of 5% and a maximum trading day limit of 60.
The 2-phase evaluation has a static drawdown limit of 10%. This means your account balance cannot decrease by more than 10% from its highest point, regardless of whether a new highest balance is reached. This rule provides flexibility, allowing for slightly larger declines in the account balance.
Once you successfully complete the evaluation, FXIFY will review your documents using Sumsub to verify your identity (KYC). Once approved, they will invite you to sign a Trader Agreement as an independent contractor. Subsequently, you'll receive your funded account details to start trading.
FXIFY has partnered with Deel, a company handling trader agreements and profit withdrawals. After passing the evaluation, Deel will email you instructions to access and complete your Trader Agreement. Upon finishing the agreement and providing the required KYC documents, your account will be created, funded, and issued within 24-48 business hours.
Upon successfully passing both evaluation phases, you become eligible for a refund. This refund is paid out when you make your first withdrawal. You'll receive a full refund of your purchase cost and an extra 25% as a bonus, totaling 125% of the refund.
Trading Dashboard
FXIFY's trading dashboard is widely regarded as one of the best in the market, offering a comprehensive set of features and a user-friendly interface. What sets FXIFY apart from other prop firms is that they are not another white-label prop firm. Instead, they provide a fully customized trading experience. They have carefully designed their dashboard to meet the unique needs of their traders, ensuring a seamless and efficient trading process.
One key aspect distinguishing FXIFY is its collaboration with FXPIG, a reputable broker since 2010. FXPIG brings its expertise as a Tier 1 true STP broker to the prop firm, offering a range of essential tools and services you would typically expect from a regular broker. This collaboration allows traders on the FXIFY platform to access a top-tier trading environment while benefiting from the advantages of being part of a prop firm.
FXIFY offers two popular trading platforms: MetaTrader 4 (MT4) and MetaTrader 5 (MT5). These platforms are well-known in the industry for their advanced tools and features. MT4 is a longstanding choice for forex and CFD traders, providing various technical indicators, charting tools, and automated trading options through Expert Advisors (EAs). MT5, on the other hand, offers even more advanced features and is favored by traders who require access to a broader range of asset classes. Both platforms are available to all FXIFY traders, allowing you to choose the platform that suits your needs and explore new options.
In addition to its robust features and collaboration with FXPIG, traders on the platform can participate in free monthly trading competitions. These competitions offer a chance to showcase trading skills, compete against fellow traders, and potentially win prizes. Engaging in these competitions not only adds excitement but also allows traders to test their strategies in a competitive environment, further honing their skills.
Furthermore, the FXIFY trading dashboard includes an Offers section granting exclusive discounts to the FXIFY community. These discounts are explicitly chosen for traders, providing special deals on trading-related products and services. With these discounts, traders can save costs while accessing valuable resources that enhance their trading activities. The presence of free trading competitions and exclusive closed discounts showcases FXIFY's dedication to building a flourishing community and delivering extra benefits to its traders.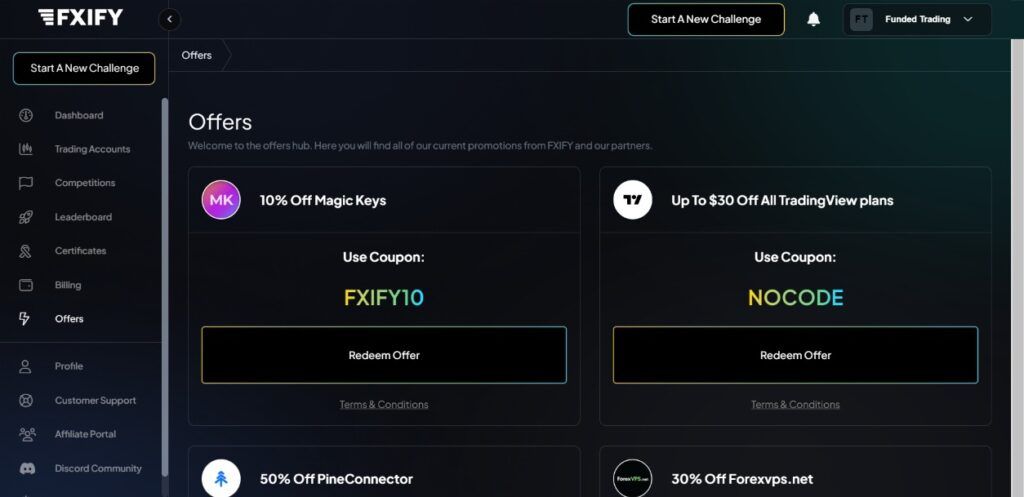 FXIFY also offers a convenient withdrawal process that caters to traders' needs. With the Withdrawal On Demand feature, traders have the flexibility to access their profits efficiently. Unlike many other prop firms, FXIFY allows traders to request a withdrawal of profits as early as 24 hours after placing their first trade on the live account. Traders can choose the frequency of their withdrawals, with the option to make them as frequently as every two weeks. This enables traders to manage their funds according to their preferences, whether they prefer immediate withdrawals or letting their profits compound for further account growth.
Upcoming Features
FXIFY remains committed to continuous innovation and improvement in its offerings to enhance the overall trading experience for its users. They are currently working on two exciting new features that will bring added benefits to traders.
FXIFY Social Copy Trading
FXIFY is developing a Social Copy Trading feature that allows you to seamlessly replicate the trades of top-performing FXIFY funded traders within your own account. This instant reflection of their trades in your account simplifies the process and enables you to leverage their expertise. Suppose you have a live account with FXIFY and generate consistent profits. In that case, you can serve as a strategy provider, increasing your earnings by helping other traders who copy your strategy. You'll also receive an attractive 20% commission on your trades.
FXIFY Pre-Paid Cards
Aiming to revolutionize withdrawal options and processes for funded traders in the prop trading industry, FXIFY is working on introducing its exclusive pre-paid cards. These cards will be available only to FXIFY funded traders, offering a quick and convenient way to access their earnings. Traders can experience the simplicity of withdrawing their profits directly to their FXIFY pre-paid card. By transferring profits to the pre-paid card, traders can enjoy the flexibility of using their earnings for online and in-store purchases and cash withdrawals, as per their needs. FXIFY is finalizing agreements with Mastercard and anticipates launching this feature between Q2 and Q3.
Conclusion
FXIFY stands out as an innovative and flexible prop trading firm that caters to the diverse needs of traders across various markets. With its customizable funding programs, relaxed trading rules, and extensive tradable assets, the platform provides an exceptional environment for novice and experienced traders to excel. The founding team's vast experience and dedication to continuous improvement ensure that FXIFY remains at the forefront of the industry, offering cutting-edge features such as Social Copy Trading and the upcoming FXIFY Pre-Paid Cards. FXIFY has the potential to become one of the best new prop firms in the market, making it a prime choice for ambitious traders. If you seek a supportive and transparent prop firm to achieve your trading goals, FXIFY is undoubtedly worth considering.
FXIFY Discount Code 20%
If you want to join FXIFY, use our exclusive code for a 20% discount FT20.
FXIFY Review (20% Discount Code) Details
Tradable Instruments:
Commodities
Crypto
Forex
Indices
Metals
Stocks
Maximum Capital Allocation: