If a trader is consistently profitable, their starting capital can increase every time they make a profit of 10% automatically, until they manage accounts worth up to $2,000,000 and take home profit shares of up to 90%.
Pros
No challenge
Live account from the start
No demo accounts
$2M scaling plan
News trading, EAs, overnight and Weekend holding allowed
Up to 90% profit split
Charitable donation initiative
Refundable Fees
Cons
Fairly new
Not a lot of reviews
FundYourFX Review
Welcome to our in-depth review of FundYourFX. If you're looking to amplify your trading profits without the hurdles of challenges or demo accounts, you're in the right place. We've got all the details you need, plus an exclusive 10% discount link. Ready to dive in? Let's get started.
About FundYourFX
FundYourFX is not just another prop trading firm; it's a market disruptor. Established in 2021 and headquartered in London, this firm has rapidly garnered commendable reviews on Trustpilot, TrustIndex, and Google Reviews. Already in 2023, they've won awards for "Best Instant Funding Prop Firm" and "Best Customer Service," marking their stamp of excellence in the industry.

They are also the first prop firm that offers 10% of its 50% split to charity. So traders will still get 50%, but FundYourFX will get 40%, and 10% will go to charity. And if a trader wants to join this initiative, they can also donate their 10% profit to charity, which makes it a 40-40 split, and 20% goes to charity. We salute them for being the first to implement this program and hope this will spread to other prop firms looking to make a difference in the world.
Funding Program Options
If you're considering dipping your toes into the market with FundYourFX, you'll find that they offer three distinct funding plans. The choices range from the Starter plan for beginners to the Professional option for those more seasoned in trading. Here's a rundown of what you can expect from each.
Starter Plan: The Starting Point
The Starter plan comes with an entry fee of £197, which is refundable. This opens the door to a funded account with a starting balance of $6,000 USD. If you play your cards right, this balance has the potential to grow up to $500,000. Like all plans offered, you can expect up to a 90% profit share and personalized support.
Standard Plan: The Middle Ground
Marketed as the 'Most Popular' option, the Standard plan requires a refundable fee of £297. In return, you're given a starting balance of $15,000 USD, potentially escalating that up to $1 million. You'll receive the same profit-sharing percentage as the Starter plan, and profit split up to 90%. 
Professional Plan: For the Seasoned Trader
For those looking at more substantial trading, the Professional plan is the top tier, available for a refundable fee of £577. The account starts with a $30,000 USD balance, and you have the chance to grow it up to $2 million. The perks—like up to a 90% profit share and personalized support—are consistent across all three plans, allowing you to scale up without missing out on key features.
To start is easy. Head over to their homepage and hit the 'Get Started' button. Alternatively, you can check out their Pricing page, pick the program you're interested in, and click 'Start Now'. This will take you to the page where you make your payment.
For the speediest account activation, consider using a debit/credit card, Skrill, or cryptocurrency to pay. Opting for any of these will grant you immediate access. Just keep in mind that if you go for a bank transfer, it might take longer, as they need to verify those transactions manually.
Fees
When it comes to fees, FundYourFX offers a one-and-done pricing model. A single fee not only sets up your account but also covers the costs of risk management and analytics software. They offer three Funded Trader Programs with varying fee structures that align with the capital they provide.
The Starter program has a fee of £197 and gives you access to a $6,000 capital to start your trading journey. If you're a more intermediate trader, the Standard option might suit you better, priced at £297 and offering $15,000 in capital. This happens to be their most popular package. For the seasoned professionals aiming for higher stakes, the Professional program comes at a cost of £577 and a robust capital of $30,000.
Now, here's where FundYourFX stands out: their refundable fees. Typically, refundable fees are a feature of prop firms that offer trading challenges. In those cases, the fee is refunded only if you pass their set challenge. FundYourFX breaks from the norm by offering a refund on their one-time fee without any trading challenges. All you need to do is hit a 10% profit three times. Essentially, if you're consistently profitable, you can treat this refundable fee as a bonus of sorts.
Once you've selected a funding program and agreed to the terms, you're all set—no unexpected fees down the line. The quick turnaround time adds to the appeal; you can start trading in less than 24 hours of making the payment.
The platform is also versatile in its payment options. Accepted methods include all major credit and debit cards, specifically those issued by VISA or MasterCard. If cards aren't your preference, you can opt for bank transfers or PayPal. FundYourFX even extends its payment flexibility into the realm of digital currencies by accepting USDT, a cryptocurrency known for secure, fast, and anonymous transactions.
If you're looking to save a little, a 10% discount is available via the coupon code FUNDEDTRADING10. This can be especially useful if you're leaning towards one of the more expensive funding programs.
Tradable Assets
When it comes to asset diversification, FundYourFX doesn't disappoint. The platform opens up a wide array of financial assets, offering something for every type of trader. Below is an overview of what you can expect:
Forex
Forex traders can rejoice; through its partnership with the Eightcap trading platform, the platform provides access to over 40 major and minor currency pairs. The options are plentiful whether you're looking to trade the EUR/USD or explore more exotic pairs.
Cryptocurrency
If you're inclined towards the digital currency realm, FundYourFX offers a robust selection. Through MT4, you can trade more than 300 different cryptocurrencies and crypto indices. All of this comes with competitive spreads, making crypto trading accessible and cost-effective.
Commodities
For those interested in commodities, the platform doesn't limit you to just one or two options. You can trade CFDs for both West Texas Intermediate Crude Oil (USOUSD) and Brent Crude Oil (UKOUSD). Additionally, precious metals like gold (XAUUSD) and silver (XAGUSD) are available for CFD trading, allowing you to diversify within the commodities sector.
Indices
FundYourFX also allows you to explore global indices. From the US30 and UK100 to more continental options like FRA40 and GER30, the platform presents an array of indices to dip your toes into. Additional offerings include AUS200, EUSTX50, JPN225, SPX500, NDX100, and HK50.
Restrictions
FundYourFX is known for its flexible trading rules, setting it apart in an industry that can often be rigid. Whether you like to trade news, hedge positions, or even leave transactions open overnight and throughout the weekend, the platform is accommodating. You're also free to employ your own expert advisors, but remember to abide by their risk management guidelines.
If you're a trader at level 1, take note that using a stop loss is mandatory. This requirement is geared towards instilling discipline, which is paramount for traders, especially those who are new to the scene. However, once you advance to level 2 or higher, the stop-loss requirement is lifted. Another nuance is that the maximum lot size is a rule applicable only to traders between levels 1 and 3.
In a recent update, FundYourFX revised their scaling plan from 8 levels down to 6. This is excellent news for traders aiming to scale their efforts more rapidly. While they don't impose a minimum number of trading days, they do expect commitment. For traders at levels 1-3, a 10% profit within 90 days is required for payouts. The time frame extends to 120 days once you reach level 4, and further expands to 180 days at level 5. The icing on the cake? Once you hit level 6, the time limitations disappear altogether.
Here is a more comprehensive view of the scaling and rules: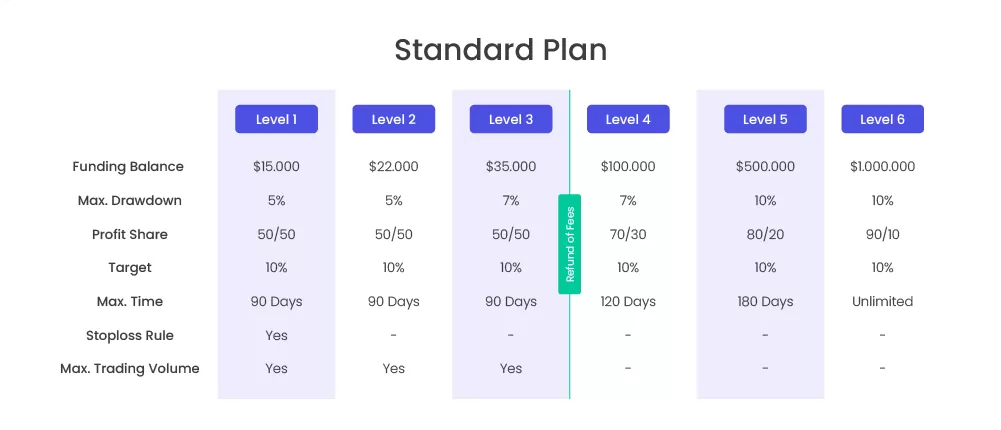 Challenge
One of the standout features of FundYourFX is its no-challenge model, a significant departure from what you'll find at many other proprietary trading firms. Typically, prop firms require traders to undergo some form of evaluation or challenge before offering funding. This could involve reaching certain profit targets within a demo account or adhering to strict risk management rules for a set period.
However, FundYourFX skips this step, allowing traders immediate access to a live trading account. All you need to do is select your desired funding program, pay the fee, and trade live in as little as 24 hours. This approach expedites the entire process and removes an additional layer of stress and uncertainty that comes with completing a trading challenge.
Charitable Initiative
In a unique twist, FundYourFX is stepping into uncharted territory with a charitable initiative that sets it apart from other proprietary trading firms. Not only does this add a humane aspect to trading, but it also allows traders to be part of a greater cause.
Here's how it works: FundYourFX commits to giving away 10% of its earnings to charity. The remaining profits are split between the trader and the firm, with traders taking home 50% and FundYourFX retaining 40%. But the charity angle doesn't stop there; traders can opt to join this benevolent effort.
If a trader agrees to contribute their 10% profit share, the new profit split becomes 40-40, with a hefty 20% going to charitable organizations. This allows traders to make a significant positive impact beyond their trading activities.
The firm has chosen to support four distinct areas: environmental causes, hunger relief, child abuse prevention, and financial literacy. Instead of focusing on a single organization in each category, they work with several groups, multiplying the impact of their charitable contributions.
In Conclusion
FundYourFX stands out in the crowded field of prop firms for several compelling reasons. Notably, its no-evaluation approach gives traders immediate access to live trading accounts, effectively eliminating the waiting period typically required by other firms. With the possibility of receiving up to $2 million in funding and a generous profit-sharing structure of up to 90%, it offers both novice and experienced traders an attractive platform to grow their trading careers.
The firm also excels in its flexibility, allowing various trading styles and approaches, which is further complemented by a simplified, transparent fee structure. Perhaps the most groundbreaking feature, however, is the charitable initiative. Not only does this add a socially responsible dimension to trading, but it also empowers traders to make a difference beyond the financial markets.
For those who are time-conscious and seek immediate access to capital, FundYourFX is an excellent choice. The one-time fees are competitive, especially considering they are refundable under certain profitable conditions. And if the idea of contributing to social good while trading appeals to you, the firm's charitable options provide a unique way to do so.
All things considered, FundYourFX is a prop firm that offers more than just trading opportunities; it offers the chance to be part of something larger.
FundYourFX Discount Code 10%
If you want to join FundYourFX, use our exclusive code for a 10% discount FUNDEDTRADING10 e maximum 
FundYourFX Review Details
Tradable Instruments:
Commodities
Crypto
Forex
Indices
Metals
Maximum Capital Allocation: