APG was founded to propel traders towards financial independence. With cutting-edge technology and unparalleled support, they offer a unique blend of innovation, flexibility, and transparency in the funded trading landscape.
Pros
High Profit-Sharing
Bi-Weekly Payouts
No Time Limit
Regulated Broker
High Leverage
Community Building
Experienced Leadership:
Cons
No Weekend Holding
No EAs
Accelerated Prop Group Review
In the fast-paced world of proprietary trading, choosing the right firm can make all the difference in your trading journey. In this Accelerated Prop Group review,  we will highlight the factors that make them worth considering. Among these factors are the 1-Step and 2-Step evaluation processes, bi-weekly payouts, and a profit-sharing model that enables traders to retain up to 90% of their earnings. Join us as we delve into the details of what makes Accelerated Prop Group (APG) a unique and promising opportunity for traders.
About Accelerated Prop Group
Accelerated Prop Group was founded with a singular mission: to empower traders to achieve financial independence. They're not just about providing a platform; they're about propelling your trading journey forward. With cutting-edge technology, flexible funding options, and unparalleled support, APG aims to be your trusted partner in the world of funded trading.
CEO's Vision: Cavell Poleon
At the helm of Accelerated Prop Group is CEO Cavell Poleon. With just under a decade of experience in the world of finance, Poleon brings a unique perspective to the table. He says, "The one thing I've always been intrigued by is that everyone works to make money but no one stops to wonder how money works itself. Growing up, I was 'book smart,' but there came an age where I began to question everything. This led me to pursue a career in financially educating people while growing my community at the same time. Years later, I'm blessed to be able to increase my level of capabilities to now allow traders to get the financial support they need. Getting funded is and will forever be one of the smartest ways to making money." His vision and leadership are integral to the company's mission and its focus on trader empowerment. Having a visible and experienced CEO like Cavell Poleon adds a layer of trust and credibility to the company, which is invaluable in the prop trading industry.
Their Vision for the Future
In their quest to redefine the way traders get funded, APG offers a blend of innovation, flexibility, and transparency. They envision a world where funding options are as diverse as the traders who need them. By seamlessly integrating technology with trading strategies, APG seeks to create a global community of traders who can collaborate and share knowledge.
Award Recognition
APG recently won the "Best Newcomer Award" from Funded Trading, a testament to their innovative approach and transparency. Unlike many prop firms that operate in anonymity, APG has a physical business location and an experienced CEO, Cavell Poleon, adding a layer of trust and credibility to their operations.
What sets APG apart are the easy-to-understand rules, valuable add-ons, and partnership with a well-established and regulated broker. They are also committed to building a community of traders.
One standout feature that you won't want to miss is their all-expenses-paid trip for funded traders to Dubai. Imagine being flown out to Dubai, dining at a top-notch restaurant, and receiving your trading payout in cash—live on a podcast! That's right, APG offers this incredible experience for funded traders from anywhere in the world. The best part? This opportunity is available for any program that you purchase with APG. It's not just about trading; it's about living the lifestyle of a successful trader.
This level of engagement is unprecedented in the prop trading industry and shows that APG is a company willing to engage directly with its community.
APG University
APG University is a unique offering that sets this trading platform apart from many others. It provides traders with the education and skills they need to succeed in the world of trading. The university offers a range of courses and resources that cover everything from the basics of trading to more advanced strategies and techniques. This is a valuable resource for traders who are looking to improve their skills and gain a deeper understanding of the market.
It is integral to APG's mission of empowering traders towards achieving financial independence. It is APG's belief that a solid educational foundation is the cornerstone to unleashing the full potential of traders, thereby assisting them in realizing their trading objectives.
Building a Community
One of the ways they foster a sense of community and ongoing learning is through their exclusive Discord group. This online community serves as a hub for traders to share insights, ask questions, and get real-time support, making it an invaluable resource for anyone looking to succeed in the trading world.
Funding Program Options
When it comes to funding, Accelerated Prop Group offers a couple of routes you can take, each with its own set of rules and benefits. The profit split begins at 80% and has the potential to reach up to 90%. Let's break down these options to help you understand what's on the table.
Evaluation Model
The Evaluation Model is a two-step program designed to test your trading skills. Here's what you need to know:
Account Sizes and Profit Objectives:

The Evaluation Model allows you to trade with up to $350,000. You'll have an 8% profit target for Phase 1 and a 5% profit target for Phase 2. You'll have an unlimited timeframe to achieve the profit target for the 15K account, while for the other accounts, you'll have 30 days for Phase 1 and 60 days for Phase 2 to reach the specified profit goals.

Rules and Restrictions:

You're required to trade a minimum of 3 days in both phases. The daily drawdown limit is 5%, and the overall drawdown limit is 10% of your initial account balance.

Additional Benefits:

This model offers high leverage starting at 1:60, with the possibility to upgrade to 1:100. Plus, as long as you stay profitable and follow all the rules, you'll have unlimited time to finish your challenge.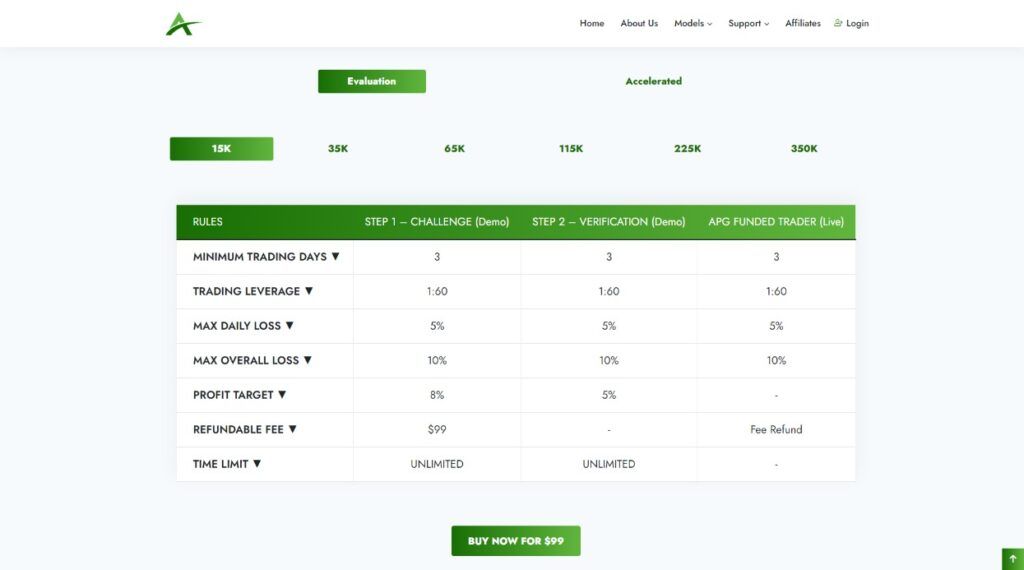 Accelerated Model
For traders who are confident in their skills and want a quicker route to funding, APG offers the Accelerated Model, which is a one-step program. Here are the details:
Account Sizes and Profit Objectives:

The Accelerated Model requires you to hit a 10% profit target within 35 days to get funded.

Rules and Restrictions:

Similar to the Evaluation Account, the daily drawdown limit is 3%, and the overall drawdown limit is 6%. You must trade a minimum of 3 days during the challenge.

Additional Benefits:

This model also offers leverage starting at 1:60, with the possibility to upgrade to 1:100. What's even better, if you're profitable but don't hit your target, you get unlimited free repeats.
Evaluation Process and Challenges
Challenges and Profit Targets:

Both the Evaluation and Accelerated models have their own set of challenges and profit targets. For the Evaluation Account, it's 8% and 5% for Phase 1 and Phase 2, respectively. For the Accelerated Model, it's a 10% profit target.

Fee Refund Policy:

After successfully completing the challenge in the Evaluation Account, your initial challenge cost will be refunded in full.
Customizable Addons for Tailored Trading
After you've chosen your funding program, you're not locked into a one-size-fits-all approach. APG offers a range of add-ons that allow you to tailor your account to your trading style and preferences.
Increase Profit Split to 90%:

Want a bigger piece of the pie? You can increase your profit split to 90% by adding just 20% to your initial fee.

Higher Leverage:

If you're looking for more buying power, you can increase your leverage to 1:100. This will add 25% to your initial fee.

No Time Limit: Trade at your own pace with no time restrictions for a minimal cost of just 5% of your initial fee.
Bi-Weekly Payouts:

Why wait a whole month for your profits? Opt for bi-weekly payouts instead, for a mere 5% addition to your fee.

Raw Spreads:

If you prefer trading with raw spreads, you can add this feature for an additional 20% of your initial fee.
These add-ons offer the flexibility to customize your trading experience, making APG not just a funding platform but a comprehensive trading solution.
Fees
Accelerated Prop Group (APG) keeps its pricing simple and transparent. Whether you're eyeing the Evaluation or the Accelerated Program, each comes with its own fee structure tailored to the account size. Let's break it down.
Evaluation Account Fees
In the Evaluation model, APG offers a range of account sizes, each with its own fee:
15K Account:

The fee is $99, with 1:60 trading leverage and unlimited time for both the challenge and verification steps. This is the difference between the 15K Account and the 35K – 350K Accounts.

35K to 350K Accounts:

Fees range from $289 to $1,449, with 1:100 trading leverage. You get 30 days for the challenge and 60 days for verification.
Accelerated Account Fees
The Accelerated Program is designed for those who want to fast-track their trading journey. Here's what you can expect in terms of fees:
In the Accelerated Program, you can choose from various account sizes, including 10K, 20K, 50K, and 100K, each with a fee ranging from $99 to $499, 1:60 trading leverage, and a 35-day time limit to reach a 10% profit target.
The Refund Policy
Whether you opt for the Evaluation or Accelerated Program, APG offers a full refund of your initial fee if you successfully complete the challenge. This is a great feature that minimizes your financial risk and makes the whole process more appealing.
Tradable Assets
APG provides a versatile platform catering to various asset classes. Whether you're into Forex, stocks, cryptocurrencies, or global indices, the standard leverage is set at 1:60, with the option to upgrade to 1:100, ensuring you have the flexibility to trade a diverse range of assets across different markets, all on one robust MT5  platform.
Restrictions
While APG offers a wide range of trading options, there are some rules and restrictions to keep in mind.
Trading During News Events
APG permits news trading during Phase 1 and Phase 2 of their programs. However, there are restrictions 2 minutes before and after the release of a red folder event on funded accounts. This is something to consider if you like to trade around news events.
Overnight and Weekend Trading
Good news for those who like to keep their trades open for extended periods: APG allows you to hold trades overnight and even over the weekend. This provides added flexibility for your trading strategies.
Copy Trading and Expert Advisors
If you're considering utilizing copy trading or Expert Advisors (EAs), please note that APG does not offer support for these automated trading options. This decision aligns with their emphasis on nurturing individual trading skills and strategies.
Scaling Plan
APG offers a scaling plan designed to reward consistent performance. Traders have the opportunity to grow their account size, thereby increasing their potential payouts. To be eligible for scaling, you must request an account review every three months. The criteria for scaling include being profitable for at least 2 out of the 3 months and achieving an average of 6% profit or more over this period. You should also have requested and processed two withdrawals. The scale increases are 25% of the original starting account balance and can go all the way up to $2M USD.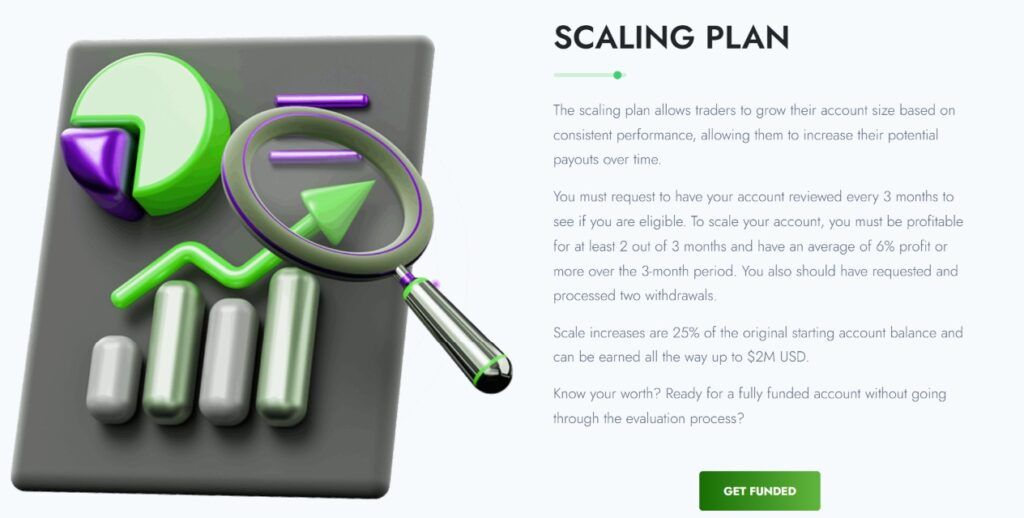 Challenge
APG has developed two funding models to evaluate traders: the Evaluation Model and the 1-Step Challenge. Both are designed to identify trading talents and offer them a spot in APG's proprietary trading firm.
Evaluation Model: Two Step
In the Evaluation Model, traders go through two steps, each with its own profit targets. Upon successful completion, you'll gain access to APG's funded account with an 80% profit split, which can go up to 90% based on performance.
Accelerated Model: The Fast Track
The Accelerated Model is a quicker route to get funded. Here, you have a single-step challenge with a 10% profit target. Once achieved, you'll start trading on APG's funded account with a favorable profit split that can also rise up to 90%.
Broker
Accelerated Prop Group collaborates with ECG Brokers, a regulated entity, for their trading platform.
A Well-Established Broker
ECG Brokers is authorized by the Financial Services Commission of Mauritius under the license number GB23201379. They operate in 187 countries and have more than 400 employees spread across over 10 offices worldwide. They offer a range of trading instruments, including Forex, Shares, Energy, Precious Metals, and Cryptocurrency.
What This Means for You
The partnership with ECG Brokers provides traders who use APG's platform with a regulated environment in which to execute trades. ECG Brokers adheres to regulatory and security standards, which may be of interest to traders looking for a secure platform.
In Conclusion
Accelerated Prop Group offers a comprehensive package for traders looking to get funded. From their evaluation challenges to their scaling plan and regulated broker partnership, there's a lot to consider. Another feature that traders will appreciate is the bi-weekly payout system. Unlike many other prop trading firms that may offer monthly payouts, Accelerated Prop Group's bi-weekly payouts mean you get access to your profits faster,

While getting funded might be challenging, Accelerated Prop Group provides the tools and support to help you succeed. Is Accelerated Prop Group worth considering? If you're a trader looking for a legitimate, well-supported path to trading larger accounts, APG certainly seems to offer a compelling package.
Accelerated Prop Group Review Details
Tradable Instruments:
Crypto
Forex
Indices
Stocks
Maximum Capital Allocation: