1of1 Funding: Revolutionize trading with 100% profit split, flexible funding, and diverse assets. Partnered with regulated broker Purple Trading for secure trading. Unlock your trading potential today.
Pros
100% profit split
Relaxed trading rules
No time limit
Allows, EAs, news trading and weekend holding
Working with a regulated broker
Advanced trading dashboard
High leverage
Cons
New prop firm
Limited reviews

1OF1 Funding Review
In the world of prop trading, finding the right prop firm can be a game-changer. Enter 1OF1 Funding—a relatively new firm that will make waves in the industry. What sets them apart? 1OF1 Funding, also known as One Of One Funding, provides an opportunity to manage substantial account sizes while keeping 100% of your profits. Intrigued? Let's dive deeper into what makes this firm a one-of-a-kind opportunity for traders.
About 1OF1 Funding
Hey, you ever feel like most prop trading firms are just faceless corporations that couldn't care less about you? Well, 1OF1 Funding could be the total opposite. Imagine a place where traders are like family, all rooting for each other. Sounds good, right? But that's exactly what TJR and Aden Rao had in mind when they started this gig.
Founded by TJR and co-founded by Aden Rao, this firm is on a mission to revolutionize the prop trading landscape. TJR, with over five years of trading experience, aims to fill the gaps he found in the prop industry. Aden Rao, who has been trading for four years, is committed to investing all his resources to make 1OF1 Funding the best it can be. You can find more information about them at Oneofonefunding.com.
The firm, based in San Juan, Puerto Rico, offers a variety of account sizes ranging from $6,000 to $200,000, catering to a variety of trading styles and risk appetites. And you know how some firms have rules that feel like a maze? Not here. Everything's crystal clear. And the best part about it? 100% profit split. Who else does that?
The 100% profit split at 1OF1 Funding could potentially be a game-changer. Just like MyFundedFX revolutionized the industry with their no time limit approach, 1OF1 Funding might do the same with their profit split. Could this be a trend that other prop firms follow? Only time will tell. But with influential figures backing this prop firm, it's not a wild idea to think that they could make a big impact on the trading world.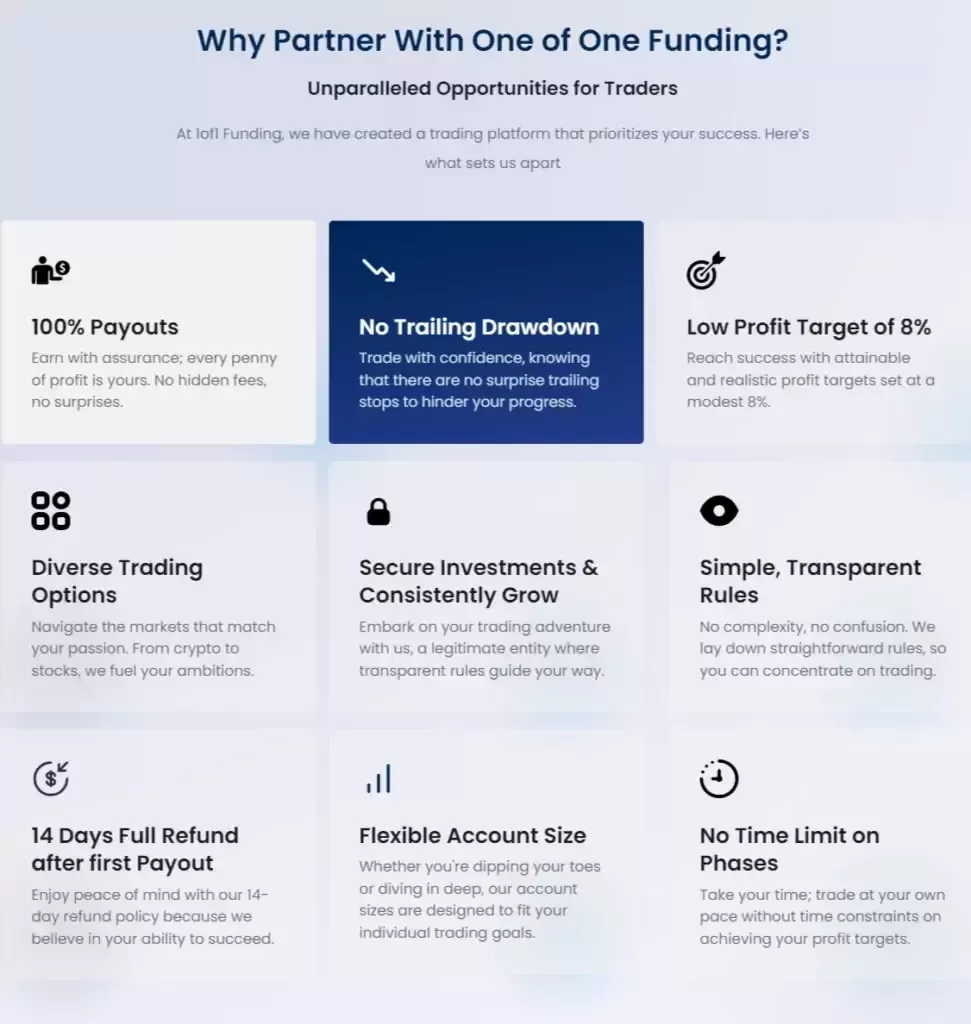 Funding Program Options
1OF1 Funding has a variety of funding choices designed to suit traders of all types. Whether you're someone who likes to start slowly and carefully, or you're a risk-taker who's ready to go all-in, there's a funding option that's right for you. Let's take a closer look at what's available: 
Standard Account
The Standard Account serves as your entry point into a two-phase assessment model. Within this framework, you have the opportunity to demonstrate your trading expertise across two distinct phases, each accompanied by its own set of profit objectives. The available account sizes range from $6,000 to $200,000, ensuring you can select a level that aligns with your comfort and risk tolerance.
1-Step Account
For those who are confident in their trading skills and want to speed up the funding process, the 1-Step Account is a great choice. This account offers a single-phase evaluation process and comes with the same account size options as the Standard Account.
Evaluation Process and Challenges
Both the Standard and 1-Step accounts present their own unique challenges designed to test your trading abilities. With the Standard Account, you'll encounter two phases: the first phase has an 8% profit target, while the second phase requires reaching a 5% profit target. On the other hand, the 1-Step Account involves a single phase with an 8% profit target.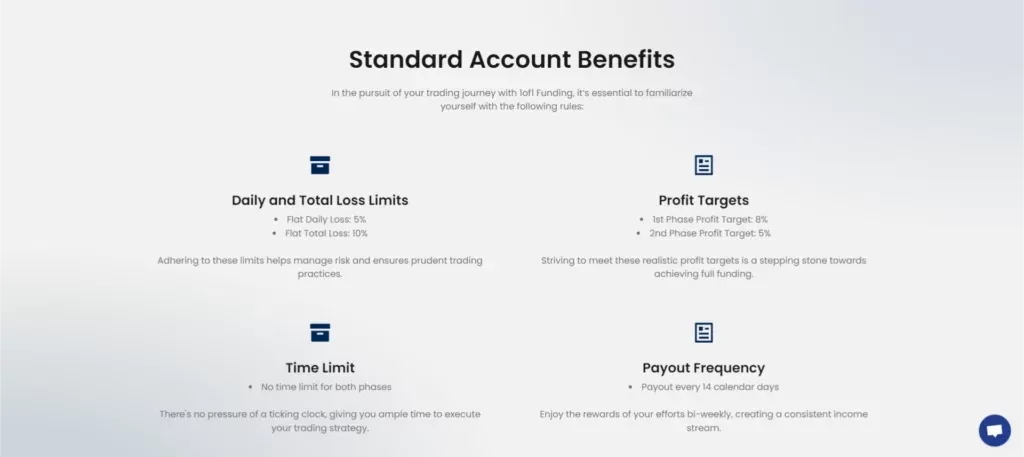 What's even better is that if you successfully complete the evaluation, you can get your fee refunded within 14 days of receiving your first payout. This means that if you make the right moves, you can essentially secure funding without any cost.
So, whether you prefer a more traditional approach to prove your trading skills or you want to move faster, 1OF1 has options to suit your needs. It's all about making your journey toward financial success accessible and promising, regardless of your trading style.
Fees
Now, let's discuss fees. In the trading world, high fees can be a problem. However, 1OF1 Funding has made fees a selling point. They start at just $65, making them very affordable.
Standard Account Fees
For the Standard Account, the fees are as straightforward as they come. Depending on the account size you opt for, you'll be looking at a refundable fee that starts at $65 for a $6,000 account and goes up to $1,000 for a $200,000 account.
1-Step Account Fees
The fee structure remains the same if you're leaning towards the 1-Step Account. Whether you're starting with a $6,000 account or going big with a $200,000 account, the fees range from $65 to $1,000. And just like the Standard Account, these fees are refundable.
The Refund Policy
If you pass the evaluation phase, whichever it may be, your fee is refundable within 14 days of your first payout. It essentially means that if you're skilled enough to pass the evaluation, you're essentially trading with their money, not yours. But what if you don't pass?
Let's face it, not everyone will pass the evaluation on their first attempt. If you find yourself in that situation, remember that the fees are not refundable. But the bright side is that you can always reapply and take another shot at the challenge, giving you a second chance.
Tradable Assets
When it comes to trading, they believe in offering you a wide range of choices. Whether you love trading cryptocurrencies, enjoy the stock market, or are into forex trading, they've got something for you. Let's break it down for you:
Forex
Forex trading is a cornerstone at 1OF1 Funding. It's a popular choice among many traders. Here, you can trade various currency pairs with leverage, which means you can control a larger position with a relatively small amount of capital. It's a way to potentially amplify your trading gains.
Stocks
If you're more inclined towards equities, 1OF1 Funding provides a selection of well-known stocks. The leverage available in this category is also quite generous, giving you the freedom to make your trades count and explore the stock market.
Crypto
If you're into cryptocurrencies, 1OF1 Funding got that too. You can trade a variety of popular cryptocurrencies, and yes—leverage of up to 100:1 is available here too.
Indices
For those who like to keep an eye on the broader market, trading indices is an option. From the S&P 500 to the Nikkei 225, you can take positions on various global indices, all with the benefit of high leverage.
Restrictions
While 1OF1 offers a wealth of opportunities for traders, it's worth noting that this platform operates with remarkable flexibility and minimal restrictions. In fact, the trading landscape here is exceptionally open, providing traders with a broad playground to explore.
Trading During News Events
If you're the kind of trader who thrives on volatility during news events, you'll want to pay attention here. 1OF1 Funding allows trading during news events, giving you the freedom to capitalize on market swings. However, it's crucial to manage your risk carefully during these periods.
Overnight and Weekend Trading
Good news for those who prefer trading during unconventional hours! 1OF1 Funding permits overnight and weekend trading. This flexibility allows you to take advantage of market movements that may occur outside regular trading hours.
Copy Trading and Expert Advisors
If you're interested in replicating successful trading strategies, 1OF1 supports copy trading, allowing you to follow and mirror the strategies of successful traders. Additionally, the platform fully supports automated trading through Expert Advisors (EAs), giving you a powerful tool to optimize your trades based on predefined strategies.
Challenge
At 1OF1 Funding, the evaluation is a chance to demonstrate your trading skills and earn a seat at the table. Let's break down what this challenge entails.
Standard Challenge: Two Phases
The Standard Challenge is a two-phase challenge designed to assess your trading skills and risk management.
Phase 1: In the first phase, your goal is to achieve an 8% profit target. With a flat daily loss of 5% and a total loss of 10%. This phase is your initial test, and meeting this target allows you to move on to the next phase.
Phase 2: The second phase has a 5% profit target with the same daily and total loss. This is the final stretch, and reaching this target means you're getting a funded account from 1OF1 Funding. Both phases offer substantial leverage (up to 100:1) and the promise of keeping 100% of the profits you make.
1-Step Challenge: The Fast Track
For those who want to fast-track their journey to funding, the 1-Step Challenge provides a quicker path. This single-phase challenge also has an 8% profit target, just like the first phase of the Standard Challenge. With a flat daily loss of 4% and a total loss of 6%. The key difference is that you'll reach your funded account faster if you meet this target.
Trading Periods and Leverage
There's no rush here; both the Standard and 1-Step Challenges come with no time limit. This grants you the freedom to trade at your own pace. And let's not forget about leverage—up to 100:1.
Whether you opt for the methodical two-phase Standard Challenge or the fast-paced 1-Step Challenge, 1OF1 Funding offers a robust evaluation process that's both fair and rewarding. With achievable profit targets, generous leverage, and a 100% profit share.
Broker
In the world of trading, the broker you select plays a pivotal role in your overall experience. This is why 1OF1 Funding has forged a partnership with Purple Trading, a brokerage firm that has been a trusted player in the field since 2015, earning a reputation for reliability and excellence.
A Well-Established Broker at One Of One Funding
Purple Trading is based in Cyprus and has served an impressive 4 million clients with Forex and CFD trading services. This number isn't just a statistic; it shows the trust and reputation they've earned throughout their years of operation.
When choosing to trade with a proprietary trading firm, it's wise to opt for one that uses a regulated broker like Purple Trading. This ensures a level of security and transparency that protects your interests and avoids unfortunate situations like the MyForexFunds case. Prioritizing a regulated environment is a wise approach to your trading journey.
Regulatory Oversight
One of the standout features of Purple Trading is its robust regulatory framework. The brokerage is owned and managed by L.F. Investment Limited, a licensed brokerage house regulated by the Cyprus Securities and Exchange Commission (CySEC). But they don't stop there; the company is also registered with other European regulators, including the Financial Conduct Authority (FCA) in the UK and BaFin in Germany.
What This Means for You
So, why does this partnership matter for traders at 1OF1 Funding? Well, it means you're trading on a platform that's not just robust but also adheres to stringent regulatory standards. This adds an extra layer of security and peace of mind, allowing you to focus on your trading strategies without worrying about the integrity of your broker.
The partnership between 1OF1 and Purple Trading brings together the best of both worlds—a prop firm that offers generous funding and profit-sharing, and a broker that provides a secure, reliable trading environment.
In Conclusion
So, here we are at the end of our review of 1OF1 Funding. Let's recap the highlights:
First off, 1OF1 has partnered with a top-tier broker like Purple Trading to ensure you get a seamless trading experience. This partnership combines streamlined technology with competitive spreads.
What sets them apart is not just the partnership but also its remarkably flexible trading rules. From the absence of time limits in the evaluation phases to the freedom to trade during news events and weekends, this prop firm offers unparalleled freedom in the trading world.
And let's not overlook one of its standout features—the impressive 100% profit split. This game-changing element could potentially reshape the prop trading landscape.
Is One Of One Funding right for you? That's a question only you can answer. But one thing is certain—if you're ready for the challenge, this prop firm provides a path to trading success that's certainly worth considering.

1OF1 Funding Discount Code
If you want to join One Of One Funding, use our exclusive code for a 15% discount FT15.

1OF1 Funding Review (15% Discount Code) Details
Tradable Instruments:
Crypto
Forex
Indices
Stocks
Maximum Capital Allocation: